The speakers at this talk were -
Mike Radcliffe - Represent
Derek Brazell - Association of Illustrators (AOI)
Fred Deakin - Airside
Paul Penson - Creative Review
Sarah Mann - Pick Me Up
It was my first talk of the event and I turned up early, thinking I could get a good seat. To my surprise, I had to wait in line. It seems I wasn't the only one to be eager enough to turn up early.
The lecture hall was about 80% full with attendees leaking in through the back after the talk began (naturally).
The structure of the talk was that each speaker had their segment, with an open time for questions at the end of all the speakers, and then 30 minutes of networking at the SU bar.
Here are some tips I 'picked up'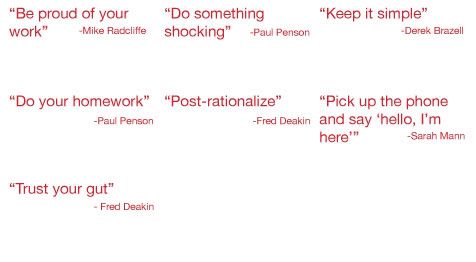 The whole talk was really rewarding, the tips and suggestions each creative spoke of was always something of value. I also realised that no matter how successful, the sense of nerves during public speaking is always there. Definitely one of my favourite talks of the whole event.